Education and Student Services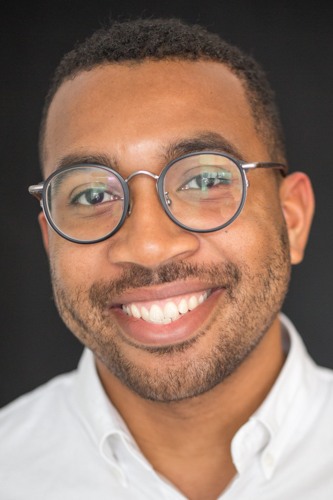 William Lodge II
Ph.D. in Behavioral and Social Health Sciences '24
Seeking
Assistant professorship or post-doctoral fellowship with a focus in Global Health and HIV research. Open to positions outside of academic working at a multilateral organization (UN or WHO) working on research related aims to improve global health.
Research Interests
HIV, HIV Prevention, Global Health, Behavioral Sciences
William Lodge II is a fourth-year doctoral student focused on HIV primary and secondary prevention research—domestically and in resource-constrained settings across the globe. His research interests include investigating barriers and facilitators to suboptimal antiretroviral therapy (ART) adherence among gender and sexual minorities living with HIV. His dissertation research, funded by NIH National Institute on Drug Abuse, uses a syndemic approach to understand the impact of substance use and other psychosocial factors on ART adherence among transgender women in India.
Before Brown, he worked for several years at Harvard T.H. Chan School of Public Health and Harvard Medical School on various research projects such as knowledge and attitudes on polio immunization, Ebola and Zika viruses, quality of surgical care, and cost-effectiveness of a national immunization program. While his work has primarily been focused on South Asia, he has also worked on projects in Brazil, Tanzania, Somalia, Guinea, Bissau, the Democratic Republic of the Congo, and the United States.
While at Brown University, I received several awards for my research and commitment to health equity. My dissertation was funded by the National Institutes of Health's National Institute on Drug Abuse (NIDA) R36 Substance Use/Substance Use Disorder Dissertation Research Award, a two-year dissertation completion grant. My primary research mentors at Brown are Drs. Katie Biello and Matthew Mimiaga.
In this capacity, I have had the opportunity to work on several large-scale NIH-funded grants, including 1) an NIMH-funded randomized controlled efficacy trial of an HIV risk reduction group and individual counseling intervention that uses principles of cognitive-behavioral therapy (e.g., psychoeducation, problem-solving) and emphasizes the importance of self-acceptance among MSM in Chennai and Mumbai, India (R01MH100627-01A1); 2) an NINR funded study to test the efficacy of a stepped-care "adaptive" ART adherence intervention ("Positive STEPS") for HIV infected adolescents and young adults, ages 16 to 29 (1R01NR017098-01); 3) a NIDA funded three-arm randomized controlled trial behavioral intervention ("Project IMPACT") to reduce high-risk sex in MSM with stimulant use disorder who are at risk for HIV acquisition (R01DA042805-01A1); and 4) a NIDA funded a multi-component behavioral intervention ("PrEP for Health") delivered to PWID to increase PrEP use in the U.S. (R01DA051849-01).
I have assisted with day-to-day project management for these studies, including overseeing protocol compliance, developing materials (assessment battery, etc.), documentation and regulatory issues, and developing and maintaining the research databases. These experiences reinforced my long-term research goals to develop behavioral HIV interventions using a syndemic framework to understand the intersection of health inequities and various psychosocial and contextual factors that drive risky behavior.
Lodge II, W, Thomas, B, Biello, K, Swaminathan, S, Sangama Reddy, B, Navakodi, P, Menon, S, Mayer, K, Safren, S, Mimiaga, M. General healthcare utilization increases recent and routine HIV and STI testing among male sex workers in Chennai, India. AIDS Education & Prevention. In press
Biello K, Valente PK, Lin WY, Lodge II W, Drab R, Hightow-Weidman L, Teixeira da Silva D, Mayer K, Bauermeister JA. PrEParing for NextGen: cognitive interviews to improve next generation PrEP modality descriptions for young men who have sex with men. AIDS and Behavior. In press.
Klasko-Foster, L.B., Biello, K.B., Lodge II, W., Olson, J., Mimiaga, M.J. Transitioning from face-to-face to the digital space: Best practices and lessons learned leveraging technology to conduct HIV-focused interventions. Telemedicine and e-Health (In Press).
Ogunbajo, A, Lodge II, W, Restar, A, et al. Correlates of Geosocial Networking Applications (GSN Apps) Usage among Gay, Bisexual, and Other Men Who Have Sex with Men in Nigeria, Africa. Archives of Sexual Behavior. 2021
Instructor, Introduction to Modern South Asia: Public health from Theory to Practice; Brown University, Saxena Center for Contemporary South Asia
Teaching Assistant, Critical Perspectives in Global Health; Professors: Abigail Harrison, Ph.D., MPH & Monika Doshi, Ph.D., MPH; Brown University School of Public Health, Providence, RI
Co-Instructor, Interdisciplinary Perspectives on Disability and Death in the Global South; Co-Instructor: Caroline Kuo, DPhil, MPhil; Brown University School of Public Health, Providence, RI
Teaching Assistant, The Imprint of Time, Space and Place in Our Bodies: Understanding Health Disparities; Professor: Caroline Kuo, DPhil, MPhil; Brown University School of Professional Studies, Providence, RI
(2022 - Present): NEPHTC Health Equity Student Stipend Program
(2022 - Present): NIH/NIAID R25AI140490 Emerging Infectious Disease Scholar
(2021 - 2022): NIMHD T37 Global Alliance for Training in Health Equity Research (GATHER) Fellow
(2021): NIMH T32 Predoctoral HIV Biobehavioral Fellow
(2021): Ford Foundation Predoctoral Fellowship, Honorable Mention
(2019 - 2022): Ford Foundation Predoctoral Fellowship